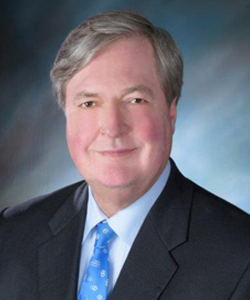 Johnny Dill
Johnny Dill is a graduate of the University of Alabama School of Business. He was a member of the All SEC Academic Team and played basketball on the 1974 and 1975 SEC championship teams. In 1975, he was selected to serve as a Co-Captain. Following graduation, Mr. Dill has been involved solely in municipal financing.
Mr. Dill has been directly responsible for developing financings for a number of cities and their utility systems. Additionally, he has structured and managed various financings for airport authorities, boards of education and institutions of higher learning.  Mr. Dill has also participated in several major projects with the State of Alabama.
Throughout his career, Mr. Dill has been involved in numerous business and civic organizations including: President of the A Club Alumni Association, Member of the Colbert County Sports Hall of Fame, Omicron Delta Kappa (National Leadership Honor Society), Executive Vice President District 1 University of Alabama National Alumni Association, the Board of Trustees Riverhill School, the National Association of Security Dealers, the Board of Trustees Montreat Home and Selections Committee Member of the University of Alabama Business Hall of Fame.
Mr. Dill is an Executive Vice President with the firm and located at 402 Cox Creek Parkway, 2nd Floor, Florence, Alabama 35630.
cell: (256) 412-9200